Hijab Verdict : karnataka high court verdict, hijab is not a mandatory part of religion
The Karnataka High Court has given an important decision on the Hijab controversy. The court, while rejecting the petition of the girl students, said that hijab is not a mandatory part of religion. Students in school-college cannot refuse to wear. The court said that wearing a hijab is not mandatory in Islam. The court has […]
The Karnataka High Court has given an important decision on the Hijab controversy. The court, while rejecting the petition of the girl students, said that hijab is not a mandatory part of religion. Students in school-college cannot refuse to wear. The court said that wearing a hijab is not mandatory in Islam.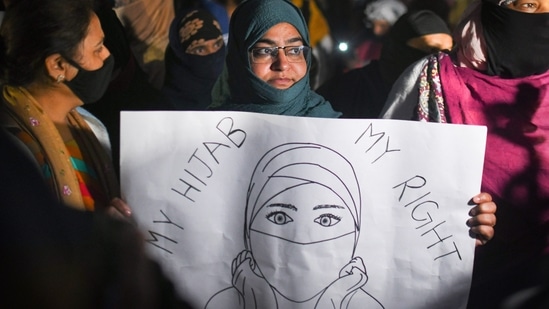 The court has said that the obligation regarding the school uniform is proper management. The student or student cannot deny it. After the verdict, the security of all the judges has been increased. A bench of Chief Justice Ritu Raj Awasthi, Justice Krishna S Dixit, and Justice JM Khaji was constituted on February 9 to hear the matter. A petition was filed on behalf of the girls demanding that they should be allowed to wear hijab even during class, as hijab is an essential part of their religion.
---
ALSO READ : hijab verdict : कर्नाटक हाईकोर्ट ने कहा- हिजाब इस्लाम का अनिवार्य हिस्सा नहीं
---
The hearing was completed on 25 February
The Karnataka High Court had completed the hearing in this matter on February 25. Along with this, the court had also reserved its decision. the decision, as a precautionary measure, the District Collector of Dakshina Kannada has ordered a holiday in all schools and colleges today (March 15). Along with this, Section 144 has also been implemented.
BJP targets Congress
The Bharatiya Janata Party has reacted to the decision of the Karnataka High Court. Party's national spokesperson Shahzad Poonawalla wrote, "Satyamev Jayate… Those from Congress and PFI who were politicizing the hijab and poisoning the minds of the people have been answered by the Karnataka High Court with its decision." These people were doing dirty politics for their vote bank. Hope Congress will stop the dirty politics of divide and rule now.
---
ALSO READ :dzire cng : Maruti Suzuki Dzire now available in CNG as well
---
what is the cause of controversy?
The Government of Karnataka had implemented Section 133 of the Karnataka Education Act, 1983 in the state. Under this, e uniform has been made mandatory in all schools and colleges. In such a situation, only the prescribed uniform will have to be worn in government schools and colleges. At the same time, private schools can also choose their uniform. According to the information, the controversy regarding Hijab in Karnataka started in January 2022. At that time, in a government college in Udupi, six girl students had reached the college wearing hijab. It is being told that a few days ago the college administration had forbidden the girl students to wear hijab. Despite this, the girls arrived wearing. When he was stopped, disputes started in other colleges as well.
---
TAG: Karnataka HC upholds hijab ban | hijab row verdict | hijab row live updates | hijab ban verdict
---